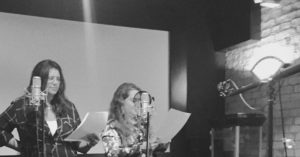 The following blog was written by Lisa Rost-Welling for The VoiceOver Network after she attended 'Character Development for Animation and Beyond' in July. The intensive, 2 day workshop was designed especially for The VoiceOver Network and was held at Casual Films in North London.  It is reproduced here with kind permission.
POP! GOES THE FILTER: A Blog Noir
It was a Sunday. 5:30pm. Neighbourhood bar. The joint was packed. There was a jovial buzz in the air not least from those of us recounting a fulfilling, challenging and eye opening weekend's worth of work. Was it really over? How was everyone feeling? Does anyone want to split a bottle of wine?
Thoughts, ideas, questions were swirling in my head. It was a dizzying turning point in my career. Had I really just voiced that many characters? Did I actually manage the ADR? Would I be able to wrap my head around my experience and walk away with a plan? I had, I did, and I would. And I'll tell you why.
It was a Saturday. 10am. Casual Films. It was one of those rare, warm, breezy London days of summer. Those of us taking part in Dian Perry's Character Development for Animation and Beyond Workshop corralled our excitement & our backsides into seats around a farm-style table. The kind of table around which you could tell big things happened; like storyboarding, conceptual brainstorming and lunch.
I, and a few others, had dutifully avoided "milky drinks" but embraced the spirit of the morning and poured a cup of caffeine anyway. It was a weekend for taking chances, after all. You could feel expectation crackling in the air. We were excited. So excited we could taste it. That's when Dian Perry walked in.
She was the kinda dame that could voice a moody pubescent teen then voice the no-nonsense grandma that smacked some sense into 'em. She knew the animation racket inside and out. She was the real deal. "Introduce yourself, tell us why you're here and what you hope to gain." This lady pulled no punches. No turning back now.
Dian led the introductions, made it look easy. One by one we shared our names, a brief overview of our journeys and the big whys and hopes that had gathered us round that fateful table. The reasons were as motley as the crew and twice as inspired. Me, I was there to see if I had what it takes to voice characters in animation. And get paid to do it. It was a long-held dream and this weekend I was putting it to the test. I had no way of knowing how the chips would fall but there was only one way to find out.
Dian was a practiced hand at the helm; you never saw the sister sweat. With each of us in turn she helped us sculpt and create various character voices from several different angles. If a tactic didn't work for you, she helped you dig deep until you found your route in. She guided, supported and challenged you. If there was a wall standing in your way, she'd hand you a sledgehammer and tell you to swing hard; all the while helping you clear the bricks to see your way through. We had been nine strangers at the start but it quickly became a safe place to suggest ideas, help each other, and to try and try again.
When that first day ended we were all feeling the tingle of possibility. We had learned how to breakdown and build voices, and how to put those steps into regular practice. Maybe it was witchcraft or maybe, just maybe, we were learning. The door to what had seemed like an elusive, exclusive branch of VO was suddenly being jimmied open right before our eyes. We were developing useable skills. But was it too good to be true? After all, tomorrow was going to get… Technical. Was this the beginning of the end? Would it all go up in smoke?
It was Sunday. 10am. Kettles boiling. The gang arrived and took stock. Though the table was as welcoming as an ice cream truck on a hot summer's day, we had to bid our old friend a reluctant farewell. Today, we were on our feet and in the studio. We warmed up in a character hot seat; putting into practice the foundations we had laid the day before. And then the time came to square up to the mic like the pros Dian expected us to be. Scripts in hand, we voiced character after character, scene after scene; Dian deftly directing a dense deluge of diverse dialogue. No one would face it alone. Not that day. Not on her watch. Characters were springing to life. Close your eyes and you could hear animation franchises sparking in the room. We broke for lunch with the focus of heroes tempting fate. We had no time for what-ifs.
Then it happened. The flying trapeze of the weekend. ADR. Nothing left but to climb the tatty rope ladder to the top, mount the platform and jump. Standing solo at the silver stick, you could cut the tension with a knife. It was now or never. You had the skills, you had the script, you had the gumption. But did you have the guts? Beep, beep, beep…
And we did. One after another. I watched as talented individuals working in their own unique styles faced the challenge before them, answering their whys and testing their hopes. Not one of them climbed back down that ladder. They all jumped, including me.
It was Sunday. 7pm. Glasses empty. We talked game plans, animation reels, and casting types, as the din of evening pub goers filled the room. We set the world to rights and lit the fires of ambition. But all good things must come to an end and I had a train to catch. I had accomplished what I had set out to do and so I walked to the station with a renewed moxie. Would I do it all again? Did I think others should attend?
All I could do was wink with a knowing smile as the train pulled out of the station.
Lisa Rost-Welling is a US Voice Artist and Actor based in the UK. http://www.lisarostwelling.com
For information about upcoming events and becoming a member of The VoiceOver Network, visit their website: http://www.TheVoiceOverNetwork.co.uk